. son of Jack ! & Highlife Entertainment......
ITS AN ABSOLUTE HONOR AND A PLEASURE TO BRING YOU A WEEKLY PARTY WITH AN OLD SCHOOL FEEL AND A NEW SCHOOL TWIST !
ETHER
PARTY HARD OR STAY HOME
this weeks a great night of Trancish Techno, House, Jungle, Drum & Bass, & Reggae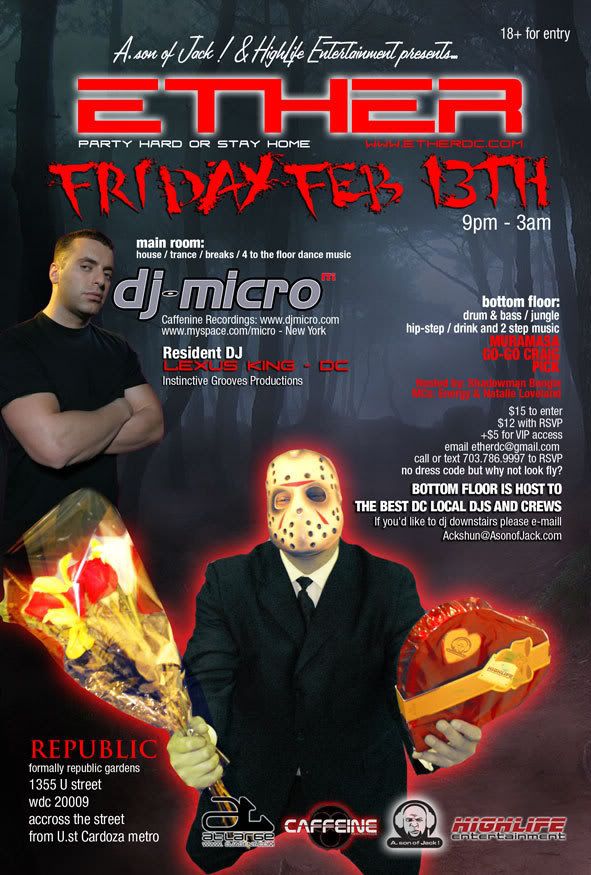 FRIDAY FEBRUARY 13TH 2009
@ REPUBLIC(formally republic gardens)
1355 Ust NW Washington DC 20009
Accross the street from the Ust/Cardoza Metro
Plenty of Parking in the area
18 and up
no dress code buy why not look fly ?
$15 to enter
$12 with RSVP
+5 for VIP area access
to RSVP text full government name to 703-786-9997 or email
etherdc@gmail. com
by 3pm on the 2/13/09.
web site on the way.
EtherDC. com
main room: house / trance / breaks / 4 to the floor dance music
DJ MICRO
Caffine recordings :
http://www. djmicro. com
:
myspace. com/micro
- New York
Internationally acclaimed as one of the US's premiere dance music producers and remixers, there are few artists who can match DJ Micro's credentials. Playing alongside East coast DJs Frankie Bones, Scott Henry, Adam X, James Christian, and Onionz, Micro put the New York underground on the global dance map with his energetic fusion of styles which is described by URB magazine"... spiced with rippling acid melodies and plenty of surging drum rolls." With over thirteen years behind the turntables, Micro's versatility and ability to whip dance floors into a frenzy with his smooth mixes and superb sense of groove has made him a dance music sensation. As a natural progression from his success as a DJ, Micro joined with Vicious Vic under the pseudonym 'Progression' to produce a series of hugely successful remixes and original works. The duo became overnight heroes in the international dance scene following the release of their massive debut single 'Reach Further' which became an instant club smash. The increasingly sought after duo were soon commissioned to remix artists from Paradise 3001 and Joe T. Vanelli to Masters at Work, as well as a wickedly groovy remix of the Dado's 'X Files' theme. In 1996, Progression's first album 'Progress Into Our Future' on Sorted Records received an overwhelming response and was described by Mixmag as "seamlessly mixed and a hardcore good time." Continuing to explore new musical horizons, Micro produced a successive string of hits for some of the world's most respected labels including the UK's Open label formed by the Ministry of Sound, Strictly Rhythm, Nervous/Sorted, Adrenalin, and Black Sunshine. With Micro's visibility and reputation continuing to grow, he's appeared at clubs and raves worldwide including tours of the US, Japan, England, Canada, and Brazil. In addition, Micro has produced a number of widely acclaimed mixed CDs including 'Coast to Coast,' (ESP-SUN), 'Micro Tech Mix' , 'Micro Tech Mix version 2.0', and 'Techmix 2000'. (Moonshine). In addition to his extraordinary success as a producer and re-mixer, Micro's thirst for new sounds and a desire to push musical boundaries led him to form the New York underground label Caffeine Records which quickly gained international attention with its top shelf selection of the freshest sounds from US and European artists. The label also spawned the longtime New York weekly club and East Coast dance institution Caffeine, where resident main man Micro rocked energetic capacity crowds. This acclaimed DJ, re-mixer, producer, and label founder once described by URB as the "techno maestro" and by XLR8TR as "unleashing a groove too thick to mention" never fails to conjure an ecstatic night of pumping progressive sounds on the dance floor.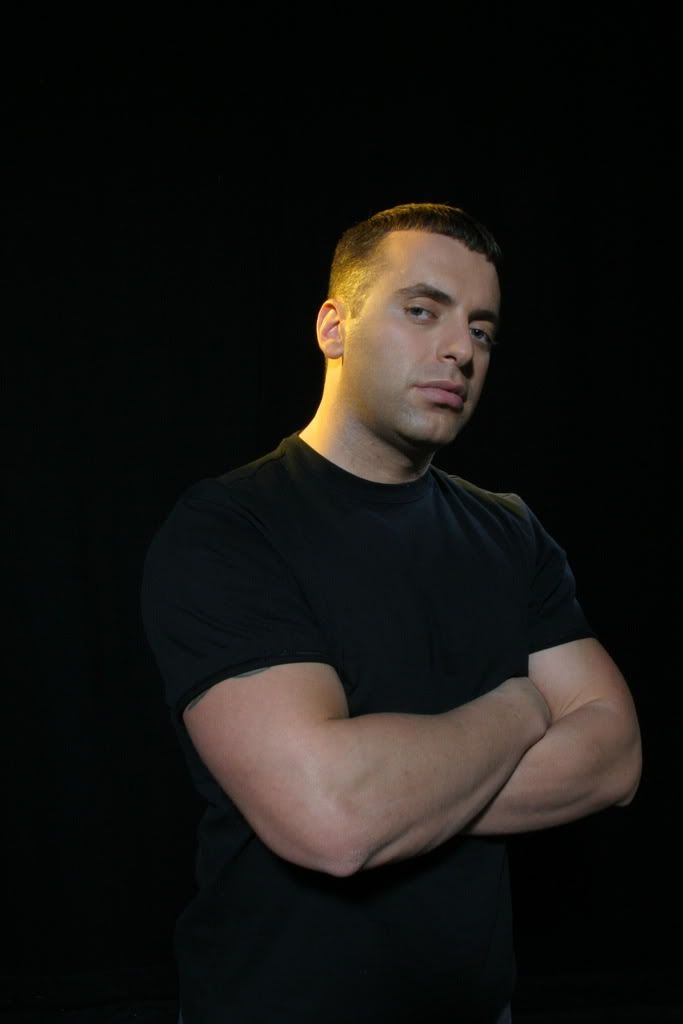 LEXUS KING
ETHER : Instinctive Grooves Productions :
myspace. com/lexusking
- Washington D.C.
Lexus King is a foundation of the D.C. House sceen. Anyone who's experienced one of his sets knows he's the truth. Anyone who is just hearing him for the first time at our party prepare to be blown away. We're proud to have him as our 4 to the floor resident here at ETHER.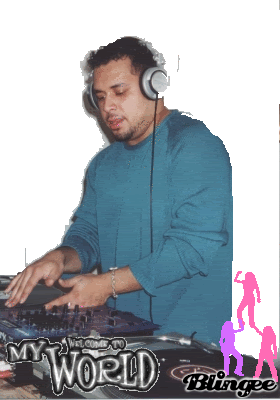 bottom floor: drum&bass / reggae / drink and 2 step music
MURAMASA
Buzz Life / Washington D.C.
Buzzlife DnB resident Muramasa is no stranger to the DC scene, having been one of the driving forces behind events like Buzz, Cubik and Alias. Known for diverse sets that cover a wide range of subgenres and long, tactical mixes, he promises to have a little something for everyone on the dance floor.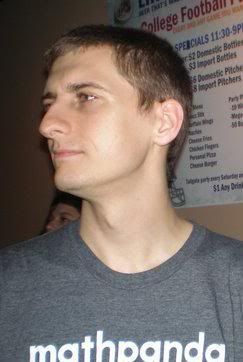 GO-GO CRAIG
http://www. Tribalistix. com
:
http://www. GoGoCraig. TV
:
http://www. GoGoCraig. com
Go Go Craig is known for rocking DC's own form of dance music, Go Go, at parties everywhere from Waldorf to Ultra in Miami.
Go Go Craig has linked up with the Tribalistix Crew (
http://www. Tribalisitix. com
) and is now rocking parties with a ragga jungle/jump up style.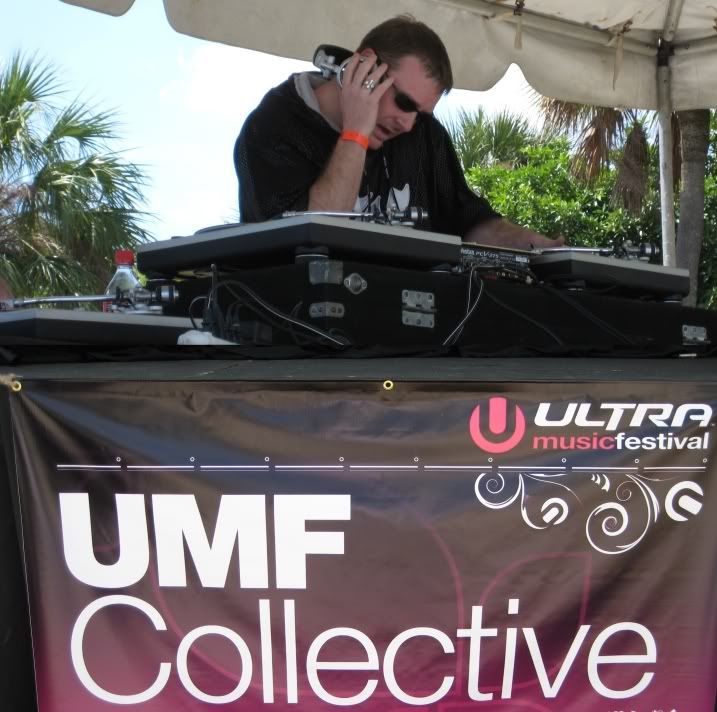 GO GO CRAIG LIVE @ CALLING ALL CREWS IN BALTIMORE !!!
PICK
He won the DNB tournament at Alias w/ John Tab hosted it. he spinned at techademics car show he has also opened for Ed Rush and Optical. He has no affliation.... because he's so good he doesn't need one.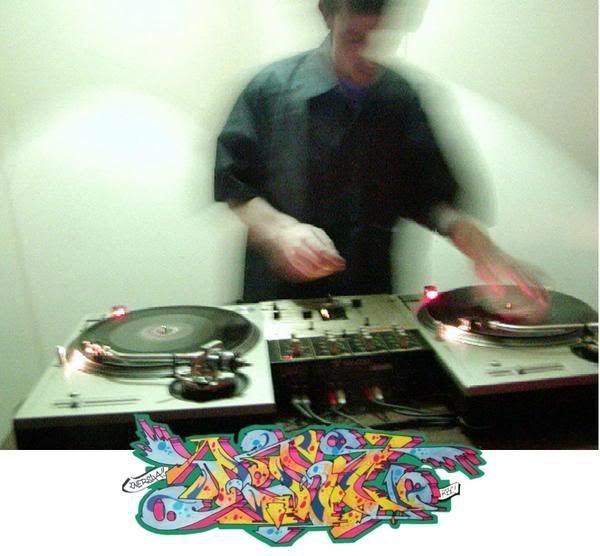 Hosted by:
SHADOWMAN BOOGIE
ETHER : A. son of Jack ! : Old World Disorder - Miami/B-More/Washington D.C.
Shadowman Boogie is the name to know in underground Hip Hop and Drum & Bass and party music MCing. He was resident at the legendary Sunday Night Sessions party. He is featured on the Clitmaster DnB track on Itunes. He is the best MC point blank period. But he is also a great host. Funny as hell on the mic. Gets everyone comfortable and dancing. You're gonna love him if you've never sceen him. You know what goodness to expect if you already have sceen him.

MCs:
ENERGY
ETHER : - Washington DC
Ya'll know Energy from the R3 parties back in the day. He also rocked the Destination Anime party along with Boogie. Just lately he ripped the MIC @ Naughty or Nice. We're proud to have him as one of our resident MC's. Enjoy.
NATALIE LOVELAND
ETHER : A.
son of Jack ! : - Washington DC
Female party MC's are far and between. A female party MC from D.C. is unheard of. Well we got on and this girl is going to amaze with her singing / mcing style. Be prepared for the definitive change up in the face of DC party MC's.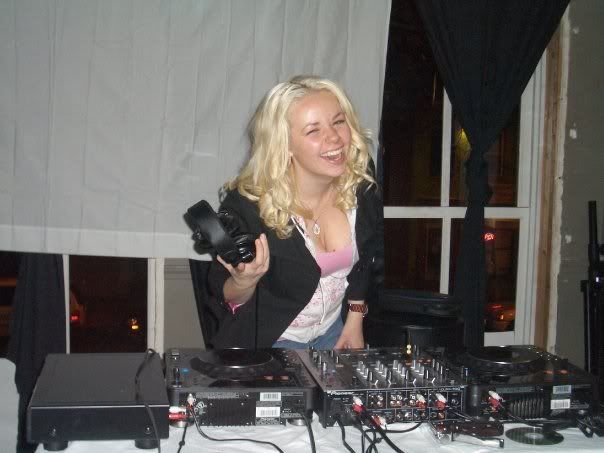 ITS AN ABSOLUTE HONOR AND A PLEASURE TO BRING YOU A WEEKLY PARTY WITH AN OLD SCHOOL FEEL AND A NEW SCHOOL TWIST. BASICLY YOU CAN CALL IT THE NEW SCHOOL CLASSIC.
WE CALL IT ETHER... ENJOY YOURSELFS BITCHES !
Can't wait to see ya'll out.
- A.
son of Jack ! & Mike